Sabine Hehle personally
On the 7th of February in the year 1956 I got a talent for drawing, a strong will and a houge portion of courage together with a neverending phantasy laid in my cradle. Together with my innately optimism a very interesting mixture. But being born into a family of refugees and driven out, I was the black sheep with my artistical attitude. I didn't find any acknowledgment or promotion here.
In the vocational school 1971/72 I came into contact with porcelain and ceramic(s)
painting. This was then also my career aspirations, the porcelain painting. But my parents were against it. Not yet of age I had to add myself - times were like this. But my dream lived on.
1975 - straight married - I became acquainted with famous and internationally well-known Robert von Geza in Upper Bavaria. He recognized my talent, promoted me and I studied some years with him. The layer painting, the technology, in also famous Rembrandt and Rubens had worked, particularly fascinated me. Besides I took order work at that time, mostly water colors. In the following years I sold many pictures and had Exhibitions with Robert von Geza in banks and hotels.
But like life plays - I got divorced. Afterwards I looked for other tasks. I worked successfully in the Bertelsmann company for some years, became even "woman of the year", and unfortunately painting came too briefly.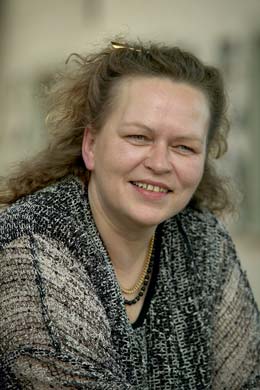 1989 I came nearer to my goal. In Beilstein I drew drafts for a tailor and my drafts were put into her collection.
In 1990 I landed in Heilbronn and in the next years I had more time for painting. Some of my most beautiful oil pictures were developed in this time. You can see them in the constant exhibition in my private gallery.
The large luck met me as I found the announcement : "2 big kilns for clay/tone or porcelain fire (Phone)" This two-line announcement completely changed my life. In the evening I told my husband about this announcement. He said:"We'll see." We met Margot Graf in Schöntal. To shorten the story: I bought the furnace and studied again. This time with Margot Graf. And so, how famous professor Poerzel admired and promoted her, the fate repeated.
Margot Graf admired my work and tought me how to paint with Platinum, Gold and Luester what You can see in my artwork today. Margot always wanted to leave her talent to someone, so we met for that reason. Our first common exhibition should become the first step into my desired new future.
At the opening evening the switches were placed again. An aneurysm in my head did burst. After weeks in coma, months in the hospital and after years it took to get from the wheelchair back into life again, I had to step back a little bit and reorder my life.
Today there's only artwork in my life. I banished everything else. It was a hard way, but it was my way. Art lives again and further, as you can see in my current work.
Today I'm working on lustre painting, Graphics, Oil painting in old-masterly techniques, Acryl painting, Water colors, Chalk pictures and collages. Just have a look into my virtual gallery (menu -> gallery) or meet me at home in my real gallery.
Yours, Sabine Hehle